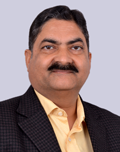 Mr. Dube as Vice President, South Asia. with over 28 years of experience working in clean energy & environment sectors, is leading IIEC's business in India and South Asian countries. He is working with international agencies like World Bank, UNEP, UNDP, GIZ, and British High Commission on various clean energy and climate change programs.
Prior to joining IIEC, he has worked as Chief of Party for Partnership to Advance Clean Energy – Deployment (PACE-D) Technical Assistance Project (www.pace-d.com) of USAID in India. Mr. Dube established the PACE-D Technical Assistance Program in India and developed the strategies for effective implementation of project. PACE-D is a 5-year program (2012-2017) with $ 19.5 million funding support from USAID.
Mr. Dube has worked as Vice President for Emergent Ventures India Pvt. Ltd. (2010-2012) and Senior Program Manager with ICF International (2006-2010). During this period, he was responsible to provide energy efficiency, renewable energy, clean energy finance, sustainability and climate change related services to donor agencies and national and international government and private sector clients. Mr. Dube has strong experience in planning, management and implementation of large national and regional programs.
In the past, Mr. Dube has worked with IIEC in the capacity of Senior Program Manager (2001-2006). During this time, he managed a number of large energy efficiency and environment management projects funded by national and international agencies. He has served as Deputy Chief of Party for USAID funded 'Water & Energy Nexus–II (WENEXA-II)' and 'Energy Conservation & Commercialization–II (ECO-II)' Projects in India and as Country Coordinator for Collaborative Labeling & Appliance Standard Program (CLASP).
He received his M. Tech. in Soil & Water Conservation Engineering from GB Pant University of Agriculture and Technology, Pantnagar, Uttaranchal, India and completed a Certificate course on 'Energy Planning and Environment' from University of Oslo, Norway.