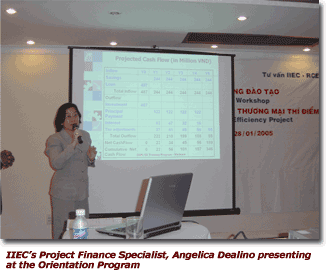 IIEC has been selected by the World Bank to provide training to the private sector in promoting energy efficiency investment in Vietnam. This training effort is part pf a four-year Commercial EE Pilot Program executed by the Ministry of Industry in Vietnam, aimed at testing business models for EE project implementation. The capacity-building program undertaken by IIEC will include energy service providers (Project Agents); site owners interested in EE projects (Project Proponents); and financial institutions (Financial Service Providers).


The training program for the Project Agents includes all aspects of the project development cycle - energy auditing, economic & financial analysis, contracts, monitoring & verification, project management and marketing. Financial Service Providers will undergo training in appraisal of EE Investment proposals. The training will be conducted in Hanoi and Ho Chi Minh City over a three-year period.


The training program commenced in January 2005 with orientation programs for the stakeholders. This was followed by training in energy auditing and economic & financial analysis in April and May 2005. As a part of the training, IIEC will be developing two projects (a textile factory and a hotel) that will serve as case studies for the program. The IIEC project team includes two partners from Sri Lanka - EnergySolve Ltd and LTL Energy Ltd who have practical experience in EE project implementation.
For more information, please contact Felix Gooneratne at This email address is being protected from spambots. You need JavaScript enabled to view it. .