In June 2015, IIEC completed the ADB sponsored project Promoting Energy Efficiency in the Pacific – Phase 2 (PEEP2). The project, which was launched in 2011, focused on reducing energy consumption in the residential, commercial and public sectors of five Pacific Developing Member Countries (PDMCs) – Papua New Guinea, Vanuatu, Tonga, Samoa and the Cook Islands – by establishing energy efficiency targets, putting in place policy and implementation frameworks, and implementing a variety of energy efficiency measures in these sectors.
The key achievements of PEEP2 included the implementation of 34 energy efficiency projects following ADB procurement guidelines. With a total investment by ADB of more than US$1.9 million, these projects have resulted in energy annual savings of 3,411 MWh, annual cost savings of $1,458,922, and CO2 savings of 3,204 tons/year. The cost of saved energy across these projects was low (e.g., an average of 6 cents/kWh in Samoa); comparing this cost with the electricity tariffs in the PDMCs – which range between 29 and 61 cents/kWh – demonstrates the economic attractiveness of these energy efficiency measures.Project outcomes also included:
Development of an energy use database to provide access to information on electricity consumption and energy efficiency indicators at national and end-use sector levels.
Development of national energy efficiency targets for the five PDMCs based on energy consumption and end-use energy savings projections for three policy scenarios–conservative, moderate and aggressive–for the years 2020, 2025 and 2030.
Development of guidelines to support energy efficiency best practices, including an Energy Efficiency Technology Assessment; International Best Practices for Energy Efficiency Building Codes; a Green Hotels Rating Scheme for the Pacific; a Green Commercial Buildings Rating Scheme for the Pacific Energy Efficiency Assessment Guidelines, Framework and Scorecard; and Energy Efficiency Guidelines for Hotels, Commercial Buildings and Street Lighting.
Conduct of a comprehensive energy audit training in all five PDMCs, which included intermediate and advanced energy auditing, practical on-site training and preparation of Investment Grade Audit Reports.
Preparation of a series of "Energy Saving tips" for printing on the back of electricity bills and "Home Energy Guides" providing information on electricity costs for common electrical appliances (both efficient and inefficient) customized to each PDMC.
Many of the guidelines, templates and implementation models developed under PEEP2 would be suitable for scaling up energy efficiency implementation throughout the Pacific region.At the end of the project, a Regional Energy Efficiency Workshop was conducted in Apia, Samoa to disseminate the lessons learnt during the second phase of Promoting Energy Efficiency in the Pacific (PEEP-2). More than 100 delegates – comprising stakeholders from all of the Pacific Island Countries (PICs) and many international donor agencies–attended the workshop. The inaugural address was given by the Samoan Prime Minister, the Honourable Tuilaepa Fatialofa Lupesoliai Malielegaoi. The outcome of the workshop was the formulation of policy recommendations for the future acceleration of energy efficiency practices in the Pacific Region.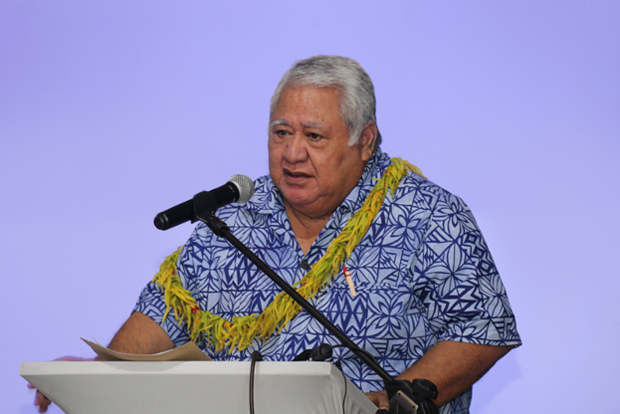 The Honorable Tuilaepa Fatialofa Lupesoliai Malielegaoi, Prime Minister of Samoa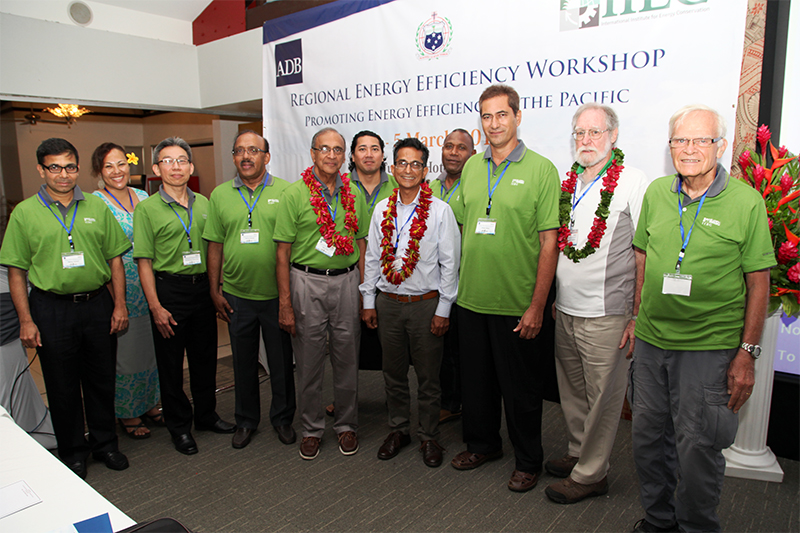 IIEC project team at the Regional Energy Efficiency Workshop
For further information, please contact Felix Gooneratne - This email address is being protected from spambots. You need JavaScript enabled to view it.