The IIEC recently completed its report on the Technical Analysis of Appliance Markets to Support the Pacific Labelling and Standards (PALS) Programme. The objective was to analyse the characteristics of major appliance and lighting products and markets, in order to support decision making of most effective S&L strategy for each Pacific Island Countries and Territories (PICTs). The report was commissioned by the Renewable Energy and Energy Efficiency Partnership (REEEP) and the analysis covers a total of 17 PICTs. It was carried out in coordination with the PALS implemented by the Secretariat for the Pacific Community (SPC) and funded by the Australian Government.
The Figure below summarizes the key findings and the main sources of electrical appliances in each PICTs based on customs data and market surveys conducted under this project.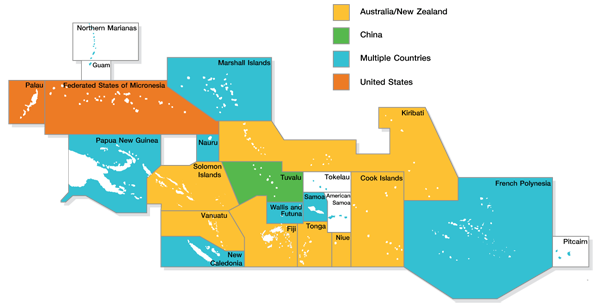 Map with Indication of Main Country of Origin of Electrical Appliances for each PICTs based on Survey of Retailer/Wholesalers and Customs Data in each PICTs
Other key findings from the report include:
Growing number of electrical appliances originating from Asia (i.e. China and Singapore).
Need to improve customs data to differentiate between linear and compact fluorescent lamps (CFLs).
Each customs department/office has a different interpretation of the international harmonized systems codes for electrical appliances. E.g. Only 5 out of 17 PICTs (29%) had customs data on television imports.
The report also highlights key challenges faced by the project team:
Limited customs data available/provided from Marshall Islands, Nauru and Niue.
General lack of statistical data in the Pacific region and in each PICTs.
The majority of PICTs have limited resources and capacity to compile import data on any kind of electrical appliance.
The main report is available on the REEEP website - http://www.reeep.org/news/reeep-commissioned-report-sets-sl-baseline-pacific-island-countries

For further information, please contact David Morgado - This email address is being protected from spambots. You need JavaScript enabled to view it..