The Philippine Energy Efficiency Project (PEEP) is being implemented by the Philippine Government through the Philippine Department of Energy (DOE) with funding from the Asian Development Bank.
IIEC is providing technical implementation support in all the components of the project. By December 2012, the implementation and completion of project components described below resulted in an estimated annual energy savings of 310 GWh.

Under the PEEP, 35 government buildings in Metro Manila were retrofitted by replacing T40/T36 fluorescent tube lights using magnetic ballast with the more efficient T5 fluorescent tube lights using electronic ballast.

For the residential sector, a total 8.6 million Compact Fluorescent Lamps (CFLs) were successfully distributed nationwide (see photographs below). The distribution of the first lot was done through major distribution utilities, electric cooperatives and civil society group. The second lot was simultaneously distributed through the congressional districts and the government agency for social welfare and development.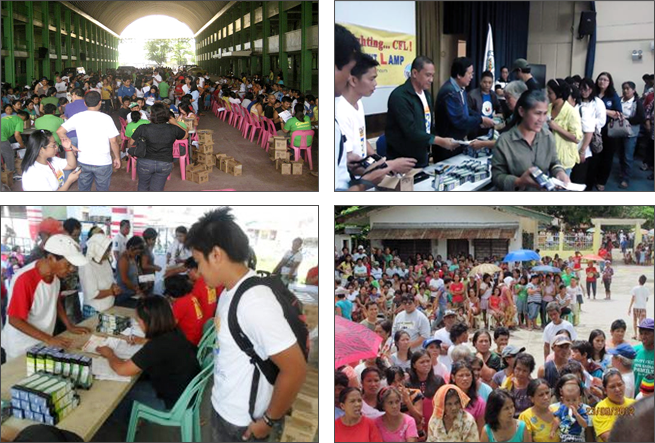 Nationwide Simultaneous CFL Distribution


In addition, in urban areas, the PEEP carried out retrofitting of selected park lights and street lights in the cities of Baguio located in Northern Luzon and Cagayan de Oro in Mindanao. A total of 159 traffic intersections in Metro Manila were retrofitted with LED traffic lights enabling a significant reduction in energy costs for the city councils. In rural areas, the PEEP delivered and installed Light-Emitting Diode (LED) solar home systems in 223 households located in off-grid areas in the Philippines, as shown in the photographs below.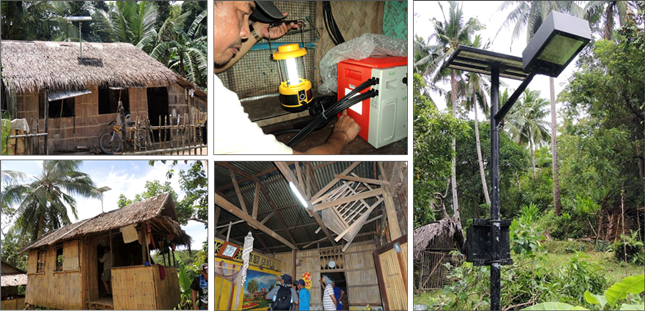 LED Solar Home Systems in Off Grid Areas


To effectively generate public awareness and participation in PEEP projects, a communication campaign and dissemination program is being implemented, not only to highlight the benefits of energy efficient lighting systems but to ensure energy efficiency practices in everyday life. The project team conducted mass media campaigns including the development, production, and placements of TV (available online - Link 1 and Link 2), radio, and print advertisements. IIEC provided support in the design of promotional materials such as posters and banners used for public awareness (see examples below). IIEC also provided support in the design of educational modules and meta-charts for distribution to public high schools. As part of the public awareness campaign and the development and upgrading of the Green Building Rating System, the PEEP in cooperation with the Philippine Green Building Council (PHILGBC), is conducting a series of stakeholder workshops and study groups.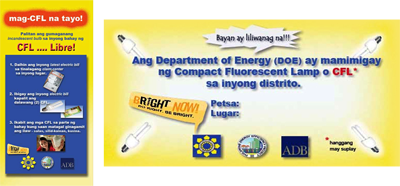 External Posters and Banners Designed by IIEC to Raise Public Awareness on CFLs


For further information, please contact Angelica Dealino - This email address is being protected from spambots. You need JavaScript enabled to view it..