The Lao Demand Side Management and Energy Efficiency Project (DSM/EE) Phase II concluded on the 31st of March 2015 with a final workshop held in Vientiane Capital. IIEC and Electricite du Lao (EdL) co-hosted the final seminar of the DSM/EE Phase II, with funding from the World Bank.
The project implemented DSM and EE activities in the residential, commercial, industrial and public sectors. Key activities included the distribution of 400,000 CFLs to households, as well as lighting and A/C retrofits in 50 pilot public buildings; these activities resulted in 9.2 GWh of energy saving per year. The DSM and EE activities carried out under the project are scalable and demonstrate good potential for helping the country reduce its electricity imports during peak demand in the dry season (when demand exceeds the generation capacity of the country's own hydro power plants).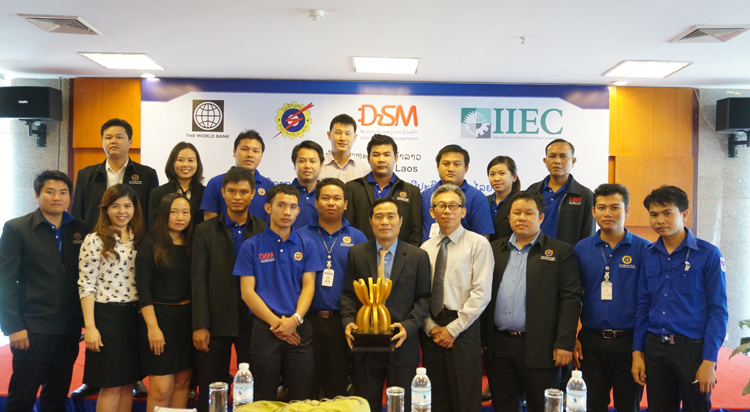 A Group Photo of the DSM Project Team
The final seminar was attended by representatives of the Laotian public authorities, delegates from the World Bank, and other key project stakeholders. During the seminar, participants expressed concerned for national energy security, which is largely affected by the country's current rapid economic expansion. There was mutual agreement of the tangible benefits delivered through DSM and EE techniques, and representatives expressed their desire for a continuation of the project. Based on project outputs, it is likely that continued work will help Lao PDR scale up its DSM and EE activities and extend benefits to all sectors nationwide. Through such activities, Lao PDR (which is commonly referred to as the battery of Asia), should be able to stop importing, and focus on exporting electricity.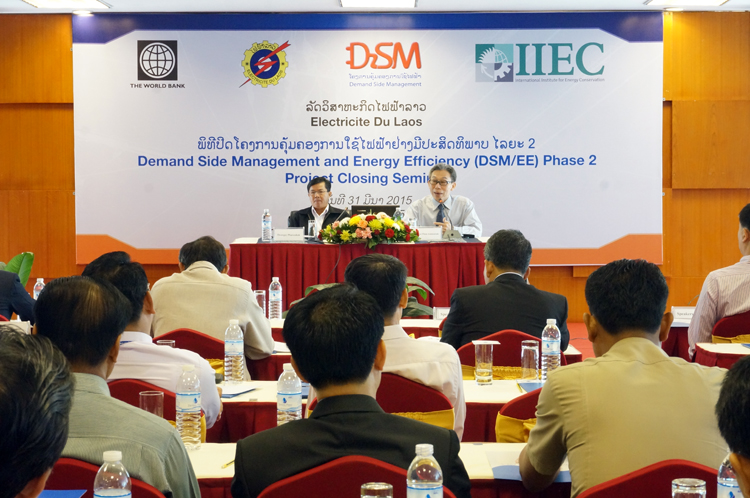 IIEC-Asia Pacific's Director, Mr. Sommai Phon-Amnuaisuk (right) and Mr. Duangsy Pharanhok,
EdL's Managing Deputy Director (left) Delivering Opening Remarks at the Project Closing Seminar, 31st of March 2015
For further information, please contact Sirikul Prasitpianchai - This email address is being protected from spambots. You need JavaScript enabled to view it.