IIEC Recent News
Reducing Air Pollution in India's Industrial Clusters through Smart Energy Management
International Institute for Energy Conservation – India (IIEC - India) and UN Environment with funding support from Climate and Clean Air Coalition (CCAC) have launched a project to build air quality monitoring and tracking capacity among government, industrial, and utility partners. The project will provide critical proof of concept that the cities in the developing countries can achieve significant, measurable reductions in air pollution and greenhouse gas emissions using private financing to capture the benefits of investing in smart energy management. Gujarat and Odisha have been selected as the two pilot states in India for the demonstration and delivery of cost-effective air pollution reduction strategies through smart management of industrial and utility energy use.
In addition, the project is supporting in kind, another UN Environment backed project funded by Clean Air Asia (CCA) in implementing the similar activities and experience gained from the two states in the city of Agra, Uttar Pradesh.

The project has conducted a launch workshop organized in Jharsuguda, Odisha, The project will deliver: 1) Improved understanding among government, industrial, and utility partners of the linkages between air quality and utility/industrial energy management; 2) Demonstrated potential for reducing air pollution levels to achieve multiple health-related and economic benefits through smart management of electricity generation, transmission, distribution, and industrial end uses; and 3) Developed and tested approach for attracting bundled private finance for clean energy solutions.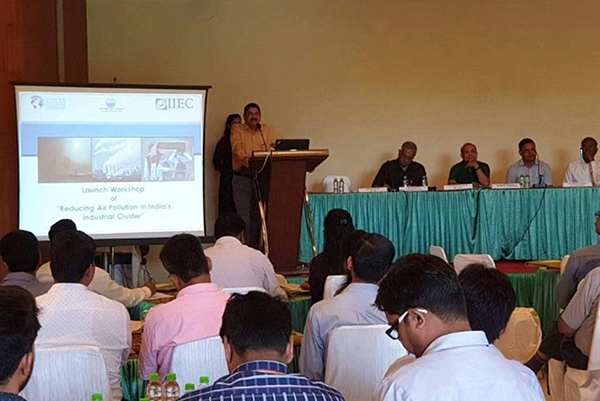 Mr. Sanjay Dube briefing the stakeholders at project launch workshop in Jharsuguda, Odisha

For more information, please contact This email address is being protected from spambots. You need JavaScript enabled to view it..